Welcome to the Wiki!
Welcome to the Owari no Seraph Wiki!
We are currently editing over 484 articles since April 16, 2013.
Note: This wiki contains spoilers, read with caution!
Synopsis
A viral calamity has devastated the world. Previously hidden vampires have emerged to take what's left of it. Orphans Yūichirō Hyakuya and Mikaela Hyakuya are two of the survivors who have joined the remnants of humanity in becoming enslaved and reduced to livestock. Along with their chosen family they dream of a better life and make their plan to escape.
Years later, Yūichirō is training to join the Japanese Imperial Demon Army, willing to embrace Cursed Gear to enact vengeance upon the vampires for what they put them through. Though Vampires, Demons and the Seraph of the End are not the only hardships that lie ahead.
Latest Chapter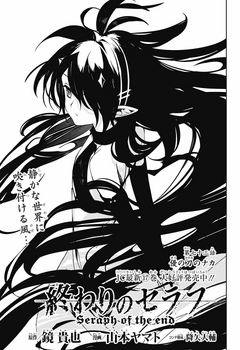 Chapter 73: Inside Yu's Sword
Yu, Kureto, Guren, Shinya, and Mika joke around about being tied and chained up. When he is informed that Shinoa is being possessed by a powerful monster, he goes to visit her. Meanwhile, Shikama Doji launches an attack on Asuramaru and begins drinking his blood.
Yu promises to save Shinoa, and she points out that Asuramaru is in trouble. Yu meets up with Asuramaru in his mind and manages to separate him from Shikama Doji.
Seraph of the End Sites
owarino-seraph (Japanese) - The official site for Seraph of the End which contains information on characters, novels and the two concurrent manga.
owarino seraph (Twitter) (Japanese) - The official Twitter account that provides latest release information and unique art work for the series.
Manga
Viz Media is the English publisher of the Seraph of the End manga. Monthly chapters are able to be bought in Weekly Shonen Jump when they are released at the beginning of each month. The collected volumes/tankōbon's, which compile around three chapters and feature their own Seraph of the End cover art, are generally released three per annum.
Anime
owarino-seraph.jp (Japanese) is the official site for the Seraph of the End anime. It provides details on characters and information on the staff/cast behind the animation. In addition to providing news and updates, there is also the opportunity to get Blu-ray and DVDs of the Seraph of the End anime. These are special additions with bonus content included. In addition, the site provides a section detailing official merchandise.
Wit Studio, the producers of the Seraph of the End anime.
The Seraph of the End anime can be viewed legally on it's own Netflix page. (Only available in Great Britain)
Novels
Miscellaneous sites
An overview of the series is available on the Seraph of the End Wikipedia page.
Future Events
November 30th, 2018 - Guren Ichinose: Catastrophe at Sixteen Vol. 4's release date was confirmed by Kodansha
November 30th, 2018 - Guren Ichinose: World Resurrection at Nineteen Book 2's release date confirmed by Kodansha
March 5th, 2019 - Vol. 16's English release date confirmed
June 4th, 2019 - Vol. 17's English release date confirmed
Random Cover
Poll
If you could acquire one of the following cursed gears, which one would it be?
Recent Blog Posts
Contribute to this Wiki!
To create a new article, simply enter the article title in the box below:
Trouble getting started?
If you are new to wikis, check Help:Getting Started
Don't be afraid to just jump in and start it! Others can edit and improve whatever you make.
Check out the community portal to see what the community is working on, to give feedback or to just stop-by and say hi.
Help the wiki by editing article stubs and creating wanted pages.