Home
Talk

0
51pages on
this wiki
Welcome to the Wiki!


Welcome to the Owari no Seraph Wiki!
We are currently editing over 51 articles since April 16, 2013.
Note: This wiki contains spoilers, read with caution!
Latest Chapter
Chapter 7: A New Family
Yoichi Saotome continues his internal battle with the demon of the Black Demon Series. Haunted by his sister's death, he cannot find the courage to overcome the demon and use its power for its own.
Meanwhile, Yūichirō Hyakuya and Shihō Kimizuki continue to fight the newly formed Man Eater with their new Demon Weapons. As the battle continues Glen Ichinose orders the two to kill Yoichi to which the both refuse to do. Yuichiro then drops his weapons and give a final attempt at bringing back his friend. Having seen enough Shinoa Hīragi pleads lieutenant Glen Ichinose to stop the chaos and take matters into his own hands. Ichinose then shouts encouraging words to the possessed Yoichi granting him a brief moment of realisation.
After conquering his anxieties and fears, Yoichi overcomes the demon's influence and regains control over his body. He then run and jump hugs Yoichi. Glen then tells the new recruits to not become taken over by revenge. He then tells them that their first task shall take place in Shinjuku which coincidentally Michaela Hyakuya is heading to.
Featured Article
Yūichirō Hyakuya (「百夜 優一郎, Hyakuya Yūichirō」) is a member of Japanese Imperial Demon Army's Demon Moon Squad and the main protagonist of the Owari no Seraph series. He was abandoned by his parents since he was a child and he ended up at Hyakuya Orphanage. Since then, the kids of this orphanage were his only family. After Michaela gets possession of a map of the underground, both of them decide to leave the place with the rest of the chidren of the orphanage. However it is revealed that is was all a plan of Felid Bathory, one the Seven Founder, and the attempt to escape is frustrated leading to death of all the family except for him. After getting to the outside world he is found by Glen Ichinose, the captain of the Japanese Imperial Demon Army. In order to take revenge for his family, he decides to join the Japanese Imperial Demon Army to gain the power he needs.
Random Cover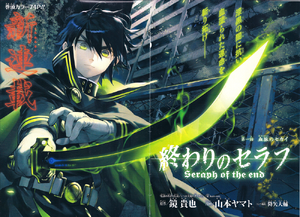 Let's take a Poll!
How good is the manga so far?
News
ChokokuguzaNoTobira has been promoted to administrator.
Staw-Hat Luffy has been promoted to administrator.
The eleventh chapter of the series has been released.
XGlass Reflection has been promoted to administrator.
The wiki's colorscheme has changed from white and green to black and green.
Contribute to this Wiki!
To create a new article, simply enter the article title in the box below:
Trouble getting started?
If you are new to wikis, check Help:Getting Started
Don't be afraid to just jump in and start it! Others can edit and improve whatever you make.
Check out the community portal to see what the community is working on, to give feedback or to just stop-by and say hi.
Help the wiki by editing article stubs and creating wanted pages.