Shinoa Hīragi 「柊 シノア, Hīragi Shinoa」 is the main female protagonist of the Seraph of the End: Vampire Reign manga series and the younger half-sister of Mahiru Hīragi. She is from the prestigious Hiragi Family and was appointed as Yūichirō Hyakuya's supervisor during his suspension. She was a sergeant of the Japanese Imperial Demon Army and the leader of her squad in the Moon Demon Company.
She also appears in the light novel series Seraph of the End: Guren Ichinose: Catastrophe at Sixteen as Mahiru's messenger.
Appearance
Catastrophe
In the light novels, Shinoa is described as an adorable young girl with shoulder length ashen (another word to describe cool colors: blue, green, and purple) hair with side braids and a bow at the back. Guren describes her as having clear, piercing eyes that seemed to stare out at the world and skin so pale that it was almost transparent.
She wears a dark colored sailor-style dress with a black collar and a ribbon tied in the front.
Vampire Reign
She has a very short, small figure and her hair is pinned up at the back with a purple bow with side braids.
At the beginning of the series, she is shown wearing her school uniform, a sailor fuku which consists of a grey blouse with black cuffs that have teal trim in the middle. It has a black sailor-style collar with has teal trim and a single five teal petal design in the middle. The ribbon of the uniform is also teal and is tied in the front and laced through a loop attached to the blouse. The bottom is a black skirt. She wore it with dark blue knee high socks and white shoes.
After Yūichirō was accepted into the Moon Demon Company, Shinoa is often seen wearing her JIDA uniform which consists of a long-sleeved black coat with a standing collar which has a magenta bow tie around it. The coat has two rows of gold buttons on the front, light green details including the shoulder epaulettes, which has a fourragère passing under and around her right side. Along with that, she wears a pair of white gloves, an armband on her left arm, and a white web belt with a gold waist-plate. She also wears the standard black skirt, dark gray thigh-high socks and knee-high black boots.
Her casual appearance doesn't differentiate much from her JIDA (Japanese Imperial Demon Army) uniform. The minor differences are that, she doesn't have her gloves along with the bow tie on her collar and wears a white long-sleeved dress shirt with a camisole over it.
Personality
She has a sarcastic attitude and doesn't put much emotion into her words. Shinoa is slightly perverted and enjoys teasing others at any opportunity. Shinoa also is quite apathetic and dry-humored as she doesn't find much motivation in life. She generally tends to smirk before teasing or performing her antics at others, putting them in uncomfortable situations. She also is very elegant in her movement. Shinoa keeps many secrets. Although Shinoa is inexperienced in both battlefield tactics and fighting (when compared to Guren or her older siblings), she leads her squad well and remains levelheaded in battle.
Because of her circumstances with the Hīragi family, Shinoa grew up without knowing what a sibling even is and never truly cared about anyone until her current squad was formed. She greatly respects Yūichirō's resolve and feelings toward his family and wants to help him. She shows surprisingly little emotions when talking to Yūichirō about her sister's death, suggesting that Shinoa is emotionally detached to people she knows, and keeps her friends away at an arm's length.  
In the Light Novels, Shinoa is revealed to be a lonely girl, shut away in an apartment on her own. The only friend she have is her older sister Mahiru, but in the end, the demon possessing Mahiru consumed her humanity, and that shattered Shinoa's resolve to form bonds with others. When Shinya and Guren offered to take care of her, after seeing the mess in her apartment, she pushed them away, claiming that they're only there to use and exploit her. Shinoa's lack of faith in others caused her to believe that she can only rely on herself, as there's no one else to trust.  
Shinoa shows that she doesn't care about the conflict inside her family, claiming that family conflicts is what caused the death of her older sister. Unlike Kureto, she lacks ambition and only wants to serve the army well. She explained to some soldiers that she doesn't actively seek a rise in rank, and her lack of ambition (and Mahiru overshadowing her) is what caused her to be casted out from her family.  
However, it wasn't until after she lost the mock battle between her squad and Guren's three-man squad in chapter 26, did Shinoa finally realize the fear of losing someone important to her and even a tiny mistake or her pranks can cost her family their lives. Also, she and her squad can grow even stronger and the closer they grow, the more powerful they'll become.[1][2] 
It is shown in chapter 10 that Shinoa has a vulnerable complex about her short stature when Yūichirō and Shihō teased her for being too short to drive a car, she then proceeded by materializing her Cursed Gear and "executed" them.[3]
She later develops feelings for Yūichirō in which she is uncertain of.[4]
History
Shinoa, like her half-sister, Mahiru Hīragi, was conceived through artificial insemination by using the seeds of Tenri Hīragi in various demon-possessed women. The demon Shinoa was born with was Shikama Dōji, but somewhere in her early childhood, Mahiru somehow separated the demon from Shinoa in order to save her younger half-sister which causes Shinoa to forget about Shikama Dōji.
As a child, Shinoa was overshadowed by her older half-sister for being a genius and fighter prodigy that her father was looking for; hence, Shinoa was never acknowledged by her father along with most of her family and even lived alone in her own apartment. The only person she had was Mahiru, who often visited and treated her nicely to the point that Shinoa was willing to be her older sister's messenger utnil Mahiru eventually abandons her. Shinoa is eventually reunited with Shikama Dōji which causes her to regain her memories of him and gain the demon as her Cursed Gear.
While Mahiru is considered a hero for developing the Cursed Gears that the JIDA now relies on today, Shinoa ended up getting shunned by the Hīragi Family largely thanks to Mahiru's betrayal in siding with the Brotherhood of a Thousand Nights, starting the war between them and the Imperial Demon Army, and becoming possessed by the demon curse that lead to her death.
At some point, Shinoa is appointed sergeant and has been working under Guren.
As Guren heads towards Hyakuya Orphanage, he sees Shinoa standing in the middle of the street he is walking on. Guren is able to tell immediately that she is related to Mahiru just by her hair. She introduces herself as Mahiru's younger sister. He asks her why she's here and she tells him that Mahiru has a message for him. When he sarcastically wonders why Mahiru would have a message for someone like him, she tells him that she knows who he really is as Mahiru told her. She recalls all the the information that only Mahiru should have known to prove her point.
Guren asks her what side she's on and she responds by saying whichever side is most interesting. She says that honestly, power and influence seem boring to her and she was luck to be born with a powerful sister since that means that she doesn't have to deal with the same expectations over the leadership of the Hīragi family. She adds that it's between Kureto and Mahiru and that she is mostly a backup in case the both of them die.
She springs forward, holding a fuda, which seems to appear out of nowhere. Guren notes the aura of danger rippling through her body and he finds it hard to believe that a small child could have this much power. He doesn't react to her attack. Shinoa stops mid-way and wonders why he isn't trying to counter. He responds by saying that if she's that strong, there nothing he can really do. He asks what she's trying to prove. She slips the fuda back into her pocket before responding. She says that she was trying to prove whose side she's on and she's not interested in the Hīragis' or the Thousand Nights, but she loves her sister as she's always kind to her.
Moving back to the subject at hand, Guren asks what the message was. She says that the message is to not go to Hyakuya Orphanage as Mahiru is planning to betray the Thousand Nights. He asks her what Mahiru is planning and what she's going to do. Shinoa says that whatever she's planning is too complicated for her to understand, so Guren says to just tell him what she can understand. She says that all she knows is that Mahiru is trying to acquire enough power to ensure that no one ever comes between the two of them again, and that Mahiru said that he's doing the same thing and that while their paths are different, their destination is the same.
He asks if that's all she knows which she nods which Shinoa says yes. Guren then tells her to deliver a message from him to Mahiru. He says to tell her that he doesn't like being manipulated by anyone; She's a fool and if she really thinks she loves him that she should stop playing games with him.
Just then, they here voices from behind her. It's a group of children who look to be the same age as her; among them is a blond boy. Guren recognizes him as the one from the Hyakuya Orphanage, Mikaela. He runs up to Shinoa to see if she is alright, and she milks the situation by telling Mika that Guren told her all sorts of dirty things and that he was probably trying to abduct her.
Before Guren leaves, he tells her to not forget about delivering his message. As Mika threatens to call the police, Guren hears Shinoa cackling in delight.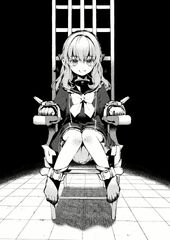 Kureto has her picked up from her apartment without warning one morning, and she does not have time to grab her wallet or shoes. Kureto has makeup put on her to make her look like she was beaten and had her fingernails torn off. He has her bound to a chair and uses this appearance to interrogate Guren. When she see him, she cheerfully says she is innocent and should be freed.
Guren's face contorts into an expression of disgust. Kureto comments about it, and Guren says he hates torturing kids. Kureto agrees but says such things do not matter for a Hīragi. He points out that Shinoa is smiling and says she has been trained to never let loose a single word during torture.
Guren walks over to Shinoa, pats her head, and releases her restraints. She asks permission to stand up, but Kureto orders her to remain seated. Kureto reveals that this is actually all makeup and Shinoa was not actually tortured. He says she would not reveal anything anyway. Shinoa stands up, saying she is bored. He commands her to stay and leave the makeup on for when he questions Shinya later.
Kureto says this was all to gather information and says he will trust Guren. Kureto says he already knows Guren met Shinoa, so he will kill Shinoa first. Kureto grabs Shinoa by the neck, and Guren charges him. Kureto blocks his attack and threatens to break Shinoa's neck.
Mahiru sends Kureto a message telling him to do as he pleases, and tears briefly form in Shinoa's eyes. She listens to Kureto order Guren to meet and persuade Mahiru with a message requesting and wanting her to return to the Hīragi to the point that Kureto will permit her and Guren to marry to keep her in the family. He also tells Guren to hold her and never let her go or else kill her before she destroys everyone around her. He then sends Mahiru's IP address to Guren, and he asks whether Kureto or Mahiru is stronger which Kureto tells him Mahiru is stronger.
Mahiru then calls Guren, and Guren puts the phone on speaker for Shinoa,and Kureto to also speak to her. Shinoa reports that everything happened as Mahiru predicted, and reports that Guren, Kureto, and Aoi are listening to their conversation. When she asks about their father, Kureto reports that he does not know she is missing. She calls him a liar and accuses Kureto of her crimes, saying he actually did everything instead of her out of jealousy. He says no one will believe her. After they talk for a bit, she mocks Kureto for prolonging their phone call to track her instead of hanging up immediately. She reveals the special ops he sent after her just now are already dead. A student rushes in and reveals that this entire conversation was just broadcast over the whole school.
Shinya meets Guren and Shinoa once Kureto releases them, and he and Shinoa laugh about Shinoa's torture makeup. Guren asks Shinoa how she feels about her sister. She says Mahiru would be the one most against her death while no one else would care at all. When Guren and Shinya both say they would be sad if she died, she says they only care about her as a replacement for her sister, whom they love so deeply.
Shinoa states it is clear Mahiru officially abandoned her today and will probably never contact her again.
The bell for fifth period rings, and Shinoa holds out her hand to request money from Guren. She says wants to take a taxi home. He says he is not interested in caring for Mahiru's little sister, but she and Shinya laugh. Shinya gives her a 10,000 yen bill and asks her to ask Mahiru if she remembers who her fiancé is.
Another day, Guren visits Shinoa at her apartment which is large enough for a couple or a small family. He finds her sitting in the dark with a blank expression. He notices there is no refrigerator, and the only things present in the kitchen are canned foods and a microwave.
Guren invites her to his house for dinner and says he has good cooks, but Shinoa does not trust him so easily. She says Mahiru told her Guren betrayed the Order of the Imperial Demons, and his father is being held hostage until his execution. Kureto sends Guren a message to keep an eye on Shinoa in case Mahiru contacts her.
Shinoa calmly throws a knife at Guren with an exploding tag on it, but he easily catches the blade between his fingers and tears off the talisman with his thumb. Shinoa comments that he is strong. She says Mahiru told her they had sex and teases Guren about it.
Guren steps out of the apartment with Shinoa at 6:15 p.m. They take a taxi, and the driver complains about being his previous job letting him go and how his two passengers are so fortunate to be born into wealthy families. He complains about the cozy life he believes Guren and Shinoa lead, which makes Guren laugh and makes Shinoa say he is being too talkative. They go onto the Metropolitan Expressway.
They hear a screeching sound, and Shinoa jumps out of the car while Guren drags the driver out with him. A dump truck falls onto the taxi and then falls onto a mother and child. Guren summons Noya and cuts the truck in half to save them.
The civilians begin screaming.
Guren orders Shinoa to return home and gives her 10,000 yen for a taxi. He tells her to get a meal before going back, and will stay to observe the situation awhile longer. They tell each other to be careful and then split up.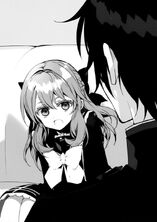 Guren takes Shikama Dōji to meet with Shinoa. The traitorous faction attacks them, but Guren kills them quickly and incidentally drenches Shinoa in their blood. Shinoa loses consciousness as soon as she touches Shikama Dōji, but Guren manages to escape with her.
Goshi calls Guren and reports that Guren's apartment was set on fire by the traitors. Their phone call is interrupted. Guren steals a motorcycle and escapes, but a van chases and crashes into him. Traitorous soldiers face him, but Shinya attacks with Byakkomaru while pulling up on another motorcycle. Goshi arrives in a stolen minivan with the rest of their squad and picks them up. He says policemen are still chasing them. They ask Guren what they should do about the end of the world.
Second Shibuya High Arc
In the year 2020, Shinoa is now fifteen years old and is tasked with supervising Yūichirō Hyakuya at Second Shibuya High after the latter gets suspended for repeated insubordination. She is given knowledge of his background, which allows her to understand Yu's antisocial behavior. When Yu joyfully asks the teacher to suspend him, Shinoa introduces herself and tells him to cooperate or she will extend his punishment. She also mentions his punishment will end once he makes friends.
After class, she stays after class with Yu, where she encourages him to make friends, and tells him she knows his background through Guren.
When he does not believe her, she hands Yu a hand-written message from Guren to back-up her claim. She watches Yu vent his frustration after reading the note before they encounter Yoichi Saotome being tormented by bullies. Shinoa encourages Yu to help him in order to gain a friend, but before he begins beating up the bullies, she warns Yu last-second that harming a civilian will extend his punishment, leading to him getting hit.
Shinoa is next seen walking with Yu and Yoichi, with the latter two carrying snacks. She observes Yu's poor interaction with Yoichi in regards to the latter's desire to get into the Moon Demon Company until an explosion goes off somewhere behind them. An alert then follows that a vampire has escaped and is heading to the school. Shinoa orders Yu and Yoichi to go to safety while she contacts the Moon Demon Company, but Yu rushes off to fight the vampire. She is next seen accompanying Guren to meet back up with Yu after his fight with the vampire. She watches as Guren refuses to let Yu into the Moon Demon Company until Yoichi comes up and hugs Yu until the latter passes out. Seeing that Yoichi has become Yu's friend, Shinoa tells Guren that he must uphold his end of the bargain. Once Yu wakes up, she welcomes him and Yoichi to the Moon Demon Company.
In the following chapter, she teases Yu about being popular and starting a relationship because he received a love letter from the girl he saved, but Yu shows no interest in the letter; which leads to Shinoa explaining how humans must build up their population in order to survive. When Yu asks why he is still attending this school, Shinoa says that he is training to gain the power to slay vampires, and manifests her Cursed Gear demon, Shikama Dōji. Yu demands that she hand her demon over, but she informs him that he cannot use a demon that has already been contracted to someone else. He still goes in for the attack to test the weapon's strength in which Shinoa easily overpowers him.
When the boys who bullied Yoichi in the previous chapter chase Yoichi to beg for him and Yu to help their friend, who went into the Forbidden Chamber, she tells them that anyone entering one of the army's class-1 restricted zones is severely punished and possibly executed. In reality, the student was probably possessed by a demon. Nonetheless, she, Yu, and Yoichi decide to go down to the Chamber to save him.
On their way down, she reveals to Yu and Yoichi that the entire school is a training ground for the army where demons are kept in the basement. Any students who tolerate the aura without going insane are recruited to the army, meaning that students there either go mad or else join the army. She takes Yu and Yoichi into the shrine underneath the school, where they find the student Yūji possessed by a demon in an ax. Yu grabs the ax, battling the demon in his mind. He surprises her by breaking free of the thrall of the demon's illusion by willpower alone, and he convinces her to pass word onto her superiors.
In chapter 4, she laughs at Yu's face, asking if he got in a fight. In reality, she knows that Shihō Kimizuki waited for him to measure his strength and is only playing dumb. When they pair up during class, she intentionally makes Yoichi her partner so that Yu is forced to pair with Kimizuki. At the end of the chapter, she informs Guren that Yu and Kimizuki are both candidates for the Black Demon Series weaponry since they both have strong desires and heart-breaking kindness. The strong desires would increase the power of the weapon while the kindness would prevent takeover by the demon. Guren decides to prepare to take the throne out from under the main family, which is actually her own family.
In chapter 5, Shinoa notices that Yu earned a zero on on his spellcraft exam, and she snatches it, flaunting it about the classroom. When Guren tests the students to see if they are qualified to try for the Black Demon Series weaponry, she endures the test better than Yu or Kimizuki, although she is not as unfazed by it as Yoichi is. Although she is qualified to try for that powerful of a weapon, she already possesses Shikama Dōji, which is a lower level of Cursed Gear. Guren asks her why she did not pass out when she was supposed to, and she made it look so easy. Guren jokingly tells her to die.
When Yoichi becomes possessed and Guren orders Yu and Kimizuki to kill him, she asks Guren to rescind his orders because it is too much for new soldiers. Yoichi surprises her when he, like Yu, also breaks free of the demon on his own.
Shinjuku Arc
Some time later in chapter 8, Shinoa is dressed in the Japanese Imperial Demon Army uniform while waiting for Yu, who is also dressed in the same garb. The two complement each other's uniforms before she fills him in that they are assigned to defend Shinjuku from the vampires, who will be attacking the city from Kansai.
The two soon arrive at the outer wall, and their introduction cause the older soldiers to question among themselves why "kids" are joining the Moon Demon Squad. Overhearing them, Shinoa tells Yu that they think he is the kid in which Yu claims it's actually her, but she corrects due to her short height. She tells him that she is still growing as her older half-sister, Mahiru, was an attractive girl with large breasts. When asked that she had a sister, Shinoa tells Yu that she died in which he apologizes, but Shinoa tells him that people who survived had lost someone close to them in this world. The two then hear someone yelling at Guren as they reach their meeting point with Yoichi and Kimizuki.
They learn that Mitsuba Sangū will be joining their squad as their fifth member, but Mitsuba disagrees with Shinoa being the squad leader let alone being placed with in this squad. Shinoa and Mitsuba have known each other for a long time, and Shinoa often addresses her as "Mitsu." Mitsu and Shinoa quickly get into a fight, and Guren breaks it up. After formally introducing Mitsuba, Guren instructs the squad to work on becoming an effective five man team, and Shinoa asks Yu if he got those instructions which Yu confirms, but makes no promises.
The five are given their first mission to Harajuku, where they are to crush the vampire enclave and free the humans, and then make their way to Shinjuku. As the five make their way to Harajuku, Mitsuba goes into a lecture about the Horsemen of the Apocalypse, and Shinoa finds it cute that "Mitsu" is lecturing the new recruits. Upon arrival at Harajuku Station, they see a girl being chased by a Horseman, and Yu wants to save her. Shinoa and Mitsuba go against the idea because she is clearly bait and is impossible for a girl to survive on her own in this world. At no surprise to her, Yu charges in and gets ambushed by vampires while she and the rest of the rest of the squad slay the Horsemen. When Mitsuba hits and scolds Yu, Shinoa tells him that Mitsuba also has a painful past.
Chapter 9 opens up with Shinoa and Mitsu taking a shower. Mitsu rants about Yu's insubordination, and Shinoa teases her about falling in love with Yu. Shinoa tells Mitsu that the demise of her previous squad was not her fault, and Mitsu tells her to stay in her own damn shower. Shinoa promptly invades Mitsu's shower, and screaming ensues.
At the Omotesando Station Entrance in Tokyo, Shinoa briefs the squad on their orders and strictly forbids independent action. They slaughter the vampires successfully, but the livestock are terrified that they no longer have vampires to protect them from the Horsemen. They say that there is no room for them in Shibuya or Shinjuku or anywhere else controlled by the Demon Army due to their population regulations, which is in direct disagreement with what Shinoa told Yu in chapter 3. Considering that the cities are largely experimental grounds, there may be more behind these regulations than what the livestock know. Shinoa informs the livestock that there is now enough room in Shibuya to accommodate the livestock from the Omotesando Station.
In the following chapter, Shinoa's squad heads to Shinjuku. Shinoa addresses the Hummer that Kimizuki hotwires as the "Shinoa Dream-Liner" and gets in the driver's seat. Unfortunately, she is too short to see above the wheel, and Kimizuki and Yu have a blast laughing at her and calling her a runt. She beats them up, and they decide to not make fun of her height anymore. On the way to Shinjuku, they encounter Thirteenth Progenitor Crowley Eusford and crash their short-lived Hummer into them. He attacks the squad, coming at Shinoa from behind, but Kimizuki defends her while Yu cuts off his arm. Shinoa decides how they should face him until Crowley's female aides arrive. Changing her plan, she orders her squad to go all-out, warning them that some of them may die. Fortunately, Ferid summons Crowley to the 5th Street intersection.
Shinoa's squad reaches Shinjuku, and she tutors the new recruits on drugging up. One pill increases the synchronization with a demon to 150%, and the second increases it to 180% but may kill the user by sending the him/her into shock. Three pills rupture all of the user's internal organs. Furthermore, the pills only last a total of fifteen minutes before dropping the synchronization down to 0%. In order to watch out for this consequence, they use timers that go off after 13 minutes, so the user knows to run to safety before becoming defenseless. The supplement takes 10 seconds to take effect. The commanding officer gives the order to take the supplements.
Although she gives them that knowledge, the truth is that she gives Yu a different type of supplement under Guren's orders, which causes him to transform and lose his mind shortly afterward.
During the battle in chapter 13, Shinoa advises Yu to leave Mika be for now in order to retreat. Crowley pins her down and samples her blood though he lets her go in order to jump away from a berserk Yu, whom the latter then attempts to kill Shinoa. Mika saves her life at great risk to himself entering in Yu's way when he tries to stab her, instead stabbing Mika in the back. Guren orders Shinoa to hug him, saying she can still save him, and the hug ceases Yu's transformation.
Later, she attempts to get information about what happened from Guren, but he refuses to tell her anything, saying Yu will be fine in a few days and teasing that she might be in love with him.
Post-Shinjuku Arc
After a week, Yu wakes up. Shinoa teases him for crying about Mika. She lies about what happened in Shinjuku, telling him that he suddenly collapsed on the battlefield. She tells him a vampire dragged Mika away. Yu promises her to not attempt any sudden rescues right now. Yu touches her neck to look at her bite, making her blush tremendously until Mitsu walks in on them. It was completely innocent on Yu's part, confusing Mitsu. She tells Yu their squad is currently on leave.
Catching Yu in the Spellcraft Research Library, Shinoa teases him for reading dirty books. She gives him information about transforming humans into vampires. She comments on Yu's newfound maturity.
While Yu is in his meeting, she chats with Mitsu. She tells Mitsu that he was promoted just for being a Sangū, but Shinoa was not getting promoted, even though she is a Hīragi. She says she would turn down the offer of promotion if she did receive one. She asks Mitsu how much information she bribed the higher-ups with to get that promotion. She then teases Mitsu until Yu returns.
In the following chapter, she meets with Yu, teasing him and asking him if he is looking into a woman's window to see a girl changing. He is no longer affected by her perverted thoughts. Shinoa agrees to help him save Mika, and he holds her hand when she gives in, causing her to blush.
Once Guren throws Yu from the rooftop, Shinoa holds her scythe at Guren's neck. She reveals that her weapon specializes in mid-range combat and consequently stands no chance against a melee fighter like Guren at that range. Guren calmly says he would let Shinoa kill him which she asks him if that is his way to atone for killing her sister, Mahiru. She asks if she is in his sword since she heard him call her name. Guren says that Mahiru is already gone since she turned into a demon and saved the world by completing Cursed Gear. Shinoa laughs, stating that Mahiru was never one to care about the world because she loved him. She longed to be with him since they could never be together and became obsessed with demons.
After discussing the events of eight year, Shinoa says that if Mahiru hadn't completed the development of Cursed Gear, humanity would have perished. Her sister, who was just a girl in love became something like a Messiah. But then she was killed when she became obsessed with her research and became a demon. She continues saying, the one who killed Mahiru was the person who used to be her lover, him, Guren.
Shinoa asks him if Mahiru is together with him inside his sword, stating that he is being possessed by her. Guren asks her if she and Mahiru ever got along. She explains that she was not close with her sister because Hīragi's are raised without knowing familial love. He tells her to shut up and drop it.
Shinoa then tells him that watching a "certain someone" get so desperate to save someone he has no blood ties to has made her wonder if she should put more value into "friendship" and "camaraderie". From that she asks if making use of Yu was one of Mahiru's orders and asks if her sister or the demon for lack of a better word that is inside his sword is ordering him. She asks what his goal is, though he doesn't say anything. As if warning him, she asks that if his goal is something that does not benefit Yu, that she'd appreciate if he stopped. Guren sighs and asks if she seriously is head over heels for him.
In the streets of Shinjuku, she and Mitsu teach the boys how to go to the next level with their cursed gear. Once Yu goes unconscious, she agrees to tell Yu everything that happened. That night, she notices Kimizuki's kindness and tag-teams with Mitsu to ship Yu and Kimizuki as a yaoi couple, which Kimizuki instantly rejects. Once Yu wakes up, Kimizuki's training begins. When the two boys spar afterward, she notes that they are using special abilities, which should be impossible for possession-type demons. She says the three Black Demon Series users may be Guren's handpicked secret soldiers. The detailed reports on their past have been removed from the army's intelligence department.
Nagoya Arc
In chapter 23, Shinoa's squad meets in her room in the barracks for breakfast. Mitsu sets an omelet on fire, but Kimizuki saves them. Starting a serious conversation, Shinoa takes the opportunity to tease Kimizuki, saying that he is gay, which he vehemently denies. She tells Yu he was part of an experiment that made him lose control and attempt to kill her on the battlefield. The group discusses Guren, and they decide to follow him anyway. She makes her squad's official policy "Family takes care of family."
On their way to the Ebina rest stop, she and Mitsu prank Yu, ditching him on the road and making him walk to their vehicle for ten minutes. After Yu gets behind the wheel, she tries the same thing on Kimizuki, but he catches up to them and puts his sword to Shinoa's and Mitsu's necks. The say the joke was Yoichi's idea. Thanks to her pranks, they arrive late which leads to Guren yelling at her, but Yu takes the blame.
When Yu receives punishment in the following chapter, the rest of the squad charges in at the sound of his screaming. She rapidly sees that it was an illusion and destroys it. Guren says this punishment is for her. He says Shinoa does not get it since she has never had anyone important to her before and does not know what it is like to fear losing someone. Guren then challenges her to a battle: himself, Mito, and Shinya against her entire squad. Shinoa and Mitsu quickly explain their abilities and give out orders.
In the battle, Mito temporarily disables Shinoa's scythe, and Guren disarms her once she regains control. They analyze their sound defeat, and Mito informs her that she was utterly incompetent as a squad leader. Once the formation was broken, Shinoa should have ordered her squad to withdraw immediately to prevent further casualties.
Shinoa and her squad then meets Sergeant Makoto Narumi, and they head to Nagoya. Narumi commands both of their squads, and they attack Fifteenth Progenitor Lucal Wesker. During the battle, Lucal grabs her scythe and swings her into Narumi's path, but Yu protects her. They defeat the fifteenth progenitor without further incident. Narumi's squad high-fives each other, and Shinoa really wants to do it too, making her squad wonder if they have to.
The Moon Demon Company regroups, and Sergeant Aiko Aihara arrives with only seven survivors from her squads. Narumi jokes that Shinoa's excellent work as team leader was what got them by unscathed, and she does not manage a comeback quickly enough to avoid a glare from Aiko. Guren Squad, Shinoa Squad, and Narumi Squad leave to hunt Thirteenth Progenitor Crowley Eusford, Seventeenth Progenitor Chess Belle, and Seventeenth Progenitor Horn Skuld while Aiko waits for other survivors to pass them the order to reconvene at Nagoya Airport.
Once they reach Nagoya City Hall, Guren informs them that hostages are being used as bait to lure them and Yu insists on bursting in and saving. Narumi dismisses it as too dangerous and when he and Yu ask Guren what to do, Guren suggests that they snipe them from their position and see if they can lure them out; however if there are too many of them, they are to abandon the hostages and run. Yu shouts that they can't do that.
Shinoa interrupts Yu and asks Guren what their priorities are. In order, he says that their top priority is to maintain their numbers, letting no one die. Their second priority is to free the hostages and lastly, getting the hostages out alive. Narumi states that this is because they are needed for another mission after this. Guren then says that they need to keep the vampires occupied in Aichi Prefecture for as long as they can so they can buy enough time for the main forces in Shibuya to get prepared.
After Crowley catches Gekkōin, Guren and his squad discuss what to do. After careful planning, Guren decides that his squad will take his squad to attack Crowley while Shinoa and Narumi Squads free the hostages. He gives them five minutes to rescue as many hostages as they can and act as a proper diversion for the main force in Shinjuku. As soon as the five minutes are up everyone has orders to retreat to the Nagoya Airport immediately.
Sometime later, Yoichi reports on the situation with Guren's squad to the others and Yu insists on rescuing him. Shinoa agrees with him but says they only have five minutes. She gives them specific instructions regarding their plan. Shinoa Squad runs through Nagoya City Hall, and Shinoa tells them that the enemies are directly above them and uses Shikama Dōji to scout the enemy for her. Shinoa counts down using her fingers and everyone prepares their Cursed Gear. After engaging Crowley, Chess and Horn block Mitsuba's attack. Shinoa says they've failed and tells everyone to pullback and regroup. The timer goes up and Shinoa tells Yu that it's been five minutes are up and orders a retreat.
Outside, Yu breaks free of Kimizuki's grasp and complains about leaving Guren behind. Shinya tells Shinoa to shut him up, so Shinoa asks Yu if he remembers the promise they made before this started: after five minutes, they would withdraw no matter what. She says that Shinya has known Guren far longer than him yet he is putting his feelings aside to escape.
After Yu's flashback, he wipes away his tears and states he cannot follow orders. He says he is not cut out for teamwork. He tells the others to proceed without him, and he will stay behind. He takes out his pills and realizing what he is about to do, Shinoa yells at him not to do it as taking two or more curse stimulant pills at once will kill him. Yu throws the pills up into the air and responds by saying that if he can't save his family that he'd rather die anyway. He catches the pills in his mouth and swallows them.
Shinoa grasps his shoulders worriedly and asks if he thought about what he's doing. She asks him how many pills he took and he says two. Shinoa yells at him to spit them up right now as he has taken three pills within a short period of time. Yu begins to cough blood and the curse power overwhelms him, forcing blood out of his eyes and making him scream.
When Yu comes to, Shinoa tells him again to spit up those pills. He says he is okay and has something to do. With immense speed and power, he leaps from the ground and breaks through the wall to reach Crowley.
After Kimizuki captures Yu, he joins with the rest of the squad, they run toward Shinya, who orders them to move. Vampire reinforcements are coming. They join with Narumi Squad and many injured soldiers. They flee, and Rika Inoue reports seeing a single vampire straight ahead. Shinya says they can handle one noble and orders them to keep pushing forward.
As Mika engages the Moon Demon Company, Shinoa calls out to Mika to identify him, but he tells her to shut up and return Yu to him.
After Shinya stabs Mika, Shinoa activates Shikama Dōji and knocks him away from Mika, surprising both of them. With her back to Mika, she explains that Yu would be mad at them if Mika were to die. She orders Mika to take Yu and run.
The other soldiers demand to know what she thinks she is doing and say they must kill that bloodsucker. Kimizuki, Mitsuba, and Yoichi join Shinoa, stepping between Mika and the other humans as well. Yoichi says that they've already decided on their motto: "Family takes care of family."
Shinoa tells Mika to hurry up and then meet up with them at Nagoya Airport. Mika asks her why he would meet up with them, but she says she decided to trust him and that is that. Her squad charges at the Moon Demon Company while Mika flees with Yu.
When Shinoa watches them leave, the other humans knock her down, calling her a traitor and telling her to die. Shinya tries to interfere and orders them to not kill her, but Makoto stops the sword of one of the men and asks him if he heard the major general's orders. When the soldier protests, Makoto punches him. He states that those who cannot listen to orders on the battlefield do not belong in the Moon Demon Company. Shinoa sighs with relief, but Makoto bonks her on the head and says she has a lot of explaining to do.
At the end of chapter 37, Shinoa is by herself at the Nagoya Airport where she asked Mika to meet her and the squad. She appears out of breath, having run there.
In the following chapter, Shinoa and her squad, sans Yu, run in the Nagoya Airport for their rendezvous. Mitsuba says the attacks against them have stopped, but the vampires are most likely still pursuing them. Kimizuki asks Shinoa if she has more information on their assignment.
Before Shinoa can answer, Rika Inoue approaches and grabs her by her bow and yells at her for being alive. In tears, she blames Shinoa for the deaths of her comrades because Shinoa protected a vampire. She then punches Shinoa, and Shinoa stops Kimizuki from interfering. Shinoa apologizes, but Rika does not accept it and draws her sword. She knocks Shinoa down and gets on top of her, telling her to apologize with her life. Shinoa orders her squad members against attacking Rika. Rika does not stab Shinoa but yells at her to give her friends back.
Makoto Narumi touches Rika's shoulder and tells her to calm down. He says he will take it from here since he is the squad leader. Then, Shinya Hiragi arrives with Guren Squad, sans Guren, and Shinya says it is not up to Narumi who is disciplined.
In chapter 39, a van pulls up, and Aoi Sangu steps out. Although she notices Mitsuba, she quickly turns from her. Then, Kureto Hiragi steps out. Shinya Hiragi and the members of Guren's squad are immediately alarmed, surprising Makoto Narumi with their reaction. Yoichi and Kimizuki recognize Kureto as the one who tortured them. Shinoa and Mitsuba are concerned.
Kureto identifies himself and congratulates them on their successful mission. He says that, thanks to their glorious sacrifices, humanity will now achieve complete victory over vampire-kind. He says he will take over now and orders them to put down their weapons and be at ease, but Shinoa orders them to hold onto their weapons, telling them that she feels that something terrible will happen. After Kureto orders Aoi to kill the "sacrifices", Shinoa orders her squad to quickly prepare to retreat.
As Aoi launches chains from the ground, a pair of chains strike down at Narumi from above, but Mitsuba and Kimizuki block the attack. Kimizuki yells at him to not give up yet. Yoichi fires arrows at Kureto, which Kureto easily deflects. Both Shinoa and Mitsuba order a retreat, with Shinoa commanding them to take their curse stimulant pills.
Kureto tells Shinoa that he will let her live so long as she obeys him, but she orders everyone to flee. Kureto orders her death, and three chains launch at her. Yu suddenly appears and deflects the attack, surprising Shinoa.
He and Mika step into the fray in chapter 40, surprising Shinoa Squad and Narumi. Mika points out that humans are killing humans and tells Yu they should not have come there, but Yu disagrees. Yu asks Shinoa for orders, and she issues a retreat. The survivors all request to be backup for the rear guard, but Mika says he can block chains at that speed on his own.
An army of vampires arrive, cursing the insolent humans for their recent attack before they and the humans wage war. Shinya shoots vampires near Yoichi, and says he and the Guren Squad will back up the children. He orders them to run. Fighting through their enemies, the children flee.
Guren walks onto the battlefield and Kureto announces to Guren that it is time to begin. Guren raises up his sword, and chains wrap around his arm as the curse consumes him. Mika tells Yu to run and says Guren has betrayed them. Yu disagrees. Shinoa also tells them to run since Guren is not acting like himself.
The experiment continues, and the demon Abaddon is successfully manifested. Yu then awakens in his seraph mode. He defeats the demon and later stabs himself through the chest with his cursed gear. Shinoa tries to ask Guren what is going on, but she sees Shinya point his gun at Guren and realizes that their escape is up to her now.
As the squad makes their escaped from Nagoya Airport, Shinoa tells her squad that they are now seceding from the Japanese Imperial Demon Army. Human soldiers chase them and order them to hand over Yu, who is now unconscious and on Yoichi's back, but Mika appears and kills them. Shinoa orders them to flee.
Three months later, the group is near the sea. Shinoa is seen carrying some laundry.
Post-Nagoya Arc
Shinoa, Kimizuki, and Mitsuba listen to Yu and Mika's exchange from outside.
After Mika checks on Yu, Shinoa states it has been exactly three hours since Yu transformed and greets them. She mentions it has been three days since Mika drank any blood, but Mika tells her he never asked her to be his keeper. Yu offers his blood, but Shinoa says Yu is too weak and has a bottle containing blood from everyone for Mika to drink instead.
Shinoa examines the chains and says the wards for sealing the demon are beginning to crack, so she and Mitsuba will have to repair them again. Mika accuses her of pretending to be Yu's friend and points out that everything that has happened to Yu has been due to an experiment. Yu says that Shinoa did not get directly involved, but Mika says he cannot trust any of them. Mika asks what Guren did to Yu.
Shinoa tells them they are not themselves when they are hungry and suggests they get breakfast. She holds the bottle of blood out to Mika, but he knocks it out of her hand. Mika appears frustrated, and Yu scolds him. Mika says he is not Shinoa's pet, but Yu says that blood belongs to their friends.
A human rushes in and addresses Sergeant Shinoa, asking for her help. The Horsemen are attacking their village. With the exception of Makoto, their group fights four Horsemen. Afterward, the villagers thank them. Shinoa says this is the least they can do in exchange for their food and shelter.
Their group notices that Mika drank their blood and approach him. Yoichi asks if their blood was okay. Mika says it was gross. Shinoa rambles about the pure and sweet blood of a virgin and then asks if unchaste blood got in there before looking at Mitsuba with an aghast expression. Yu, Mika, and Shiho share identical blank expressions.
Shinoa brings up their future plans. Mitsuba summarizes what has been going on. She says that the Japanese Imperial Demon Army will probably hunt them down and kill them, which puts the villagers at risk. They mention they cannot travel overseas because of how acidic and poisonous the blood-red oceans are. Monsters even worse than Horsemen swim in their depths.
They suggest surrendering, and Mika rejects the idea of returning Yu to the army to prevent him from becoming a demon. Yu suggests meeting up with Guren, but Shinoa vetoes that idea and says they cannot trust him. Makoto tells Mika this is the circle of discussion they are stuck in and asks if he has anything to offer.
Mika asks if he owes them a favor because they gave him blood, but Shinoa says no. She says that blood was for helping a friend but says she would love to hear any suggestions if he has them.
Mika says the vampire queen, his sponsor, participated in the Seraph of the End experiments. They may be able to trust her. He says she was captured and he does not know what happened to her, but rescuing her might be their least complicated option. Makoto asks if vampires are less dangerous than the Demon Army, and Mika says yes. Vampires actually care little about humans and are only concerned by power-hungry humans. Makoto agrees and says that describes the Demon Army pretty well. Shiho also agrees with that plan and states he does not trust anyone aside from those standing right there. Mitsuba agrees to the plan, and Shinoa says that the Demon Army is the most dangerous organization in Japan.
Shinoa announces their next objective is to rescue Krul Tepes before Yu becomes a full demon.
When Yu and Mika discuss Ferid, Narumi asks them to stop talking over their heads and explain what they were talking about. Shinoa begins to explain that Yu and Mika were held in the vampire capital when they were little, but Yu notices a strange sound. Mika says it is a car engine. Yoichi runs to investigate.
Yoichi uses his cursed gear to see Ferid and Crowley's approach. He announces that the red-haired monster they fought in Nagoya is coming. He says a smaller, silver-haired one is with him. When Shinoa asks why are they coming there, Mika says he does not know but advises their group to have nothing to do with Ferid and company.
Crowley lands in front of their group and quickly races between them to strike Mitsuba's shoulder with his sword and send her flying. Shinoa orders everyone to assist Kimizuki as he has a plan to rescue her.
When Mitsuba refuses to let go of Crowley, he says he will just cut off her arms. Shinoa steps in and blocks his sword with her scythe.
Yu surrenders to Crowey and Ferid until Ferid presents Akane's head in a jar to them, sending Yu's demon out of control and making him attempt to kill Ferid. Mika gets Yu to struggle against the demon temporarily.
After Kimizuki calls a truce with Crowley and Ferid, the squad departs on a bus with Ferid and Crowley is driving. As they discusses the situation, Shinoa says they require Yu's medicine and information, but Mika warns them that Ferid is completely manipulating every last one of them.
The group take a bathroom break. Mitsuba reports that the exits at the rest stop are clear. Shinoa teases her, saying that she is using that as an excuse for taking a dump. Shinoa says that Ferid, Guren, Mahiru, and the Demon Army are all equally untrustworthy. They can only trust their friends inside the rest stop.
The girls then enter the boy's bathroom where they discuss their situation and the Seraph of the End. Changing the subject, Shinoa asks how the boys use a urinal.
Going back to the topic at hand, they decide they must betray Ferid before he betrays them. Mika tells them they are not capable of killing him. Yu mentions that Asuramaru may be able to kill Ferid if Yu lets him take control for three seconds, but Kimizuki says demons are even worse than vampires. Shinoa mentions they cannot trust a single adult still alive.
They crouch together and whisper to come up with a signal of when to attack Ferid en masse.
Osaka Arc
The sqaud eventually gets back on the bus and are driven to Osaka Bay. The group disembark to see an army of foreign vampires. Shinoa asks Yu if Mika will be all right. He says yes and apologizes for getting Shinoa mixed up in all of this.
Later, Shinoa Squad goes to Ferid's mansion in Osaka. Tenth Progenitor Fuola Honte appears from the mansion and attacks them. Shinoa begins giving instructions, and Fuola Honte cuts both of Mika's arms off. Alarmed, Yu rushes forward while activating Asuramaru's power to the breaking point and ignores Mika's warning to stay back. Yu blocks the attack while Shinoa uses Shikami Doji's manifestation to grab them and pull them away from Fuola.
Crowley steps out of the mansion, approaching Fuola. Fuola attacks Crowley, but Crowley beheads him, and slices him in half. The group comments on Crowley's strength, and Shinoa says she will not complain about their allies being too powerful. Crowley then spars against the squad and reveals his strength is at the level of a seventh progenitor.
Since they have decided to rescue Krul and Ferid, Crowley tells them they must get stronger quickly since they had difficulty fighting a tenth and must face a fifth progenitor, Ky Luc, in order to rescue them.
Shinoa watches Yu and Crowley enter Ferid's mansion while the rest of the squad stays outside. Shinoa is surprised that Yu is not scared of Crowley and Mika replies that its because he is an idiot. They describe vampires as apex predators who prey on humans and are nearly impossible to kill.
Narumi tests Mika's humanity and Mika admits his feelings are fading, however his feelings for Yu have not changed. The rest of the squad goes into Ferid's mansion looking for food and Crowley directs them to the kitchen.
Powers and Equipment
Natural Abilities
As a member of the Hīragi Family, Shinoa proves herself qualified to handle a weapon of the Black Demon Series as seen when Guren engulfed the classroom with his Cursed Gear's aura in chapter 6, albeit the weapon she wields is a lower class. As leader of her squad well, Shinoa remains levelheaded and takes an analytical approach at dire situations. She is knowledgeable about weapons, demons, seraphs and vampires as well as the army politics.
In the Light Novels, Shinoa is good at martial arts, and in Volume 7, Shinoa is shown being able to wield her scythe extremely well, despite her young age like when she was able to deflect several bullets at once when protecting Goshi.
Strong resistance to demons (Light Novels exclusive) : Shikama Dōji have said in Volume 7 of the Light Novels, that Shinoa is the perfect product of the experiments, being able to resist any demons that she comes in contact with. This is due to the fact that Shinoa doesn't have a lot of desires in her heart. Shikama Doji also mentions that Shinoa can contract to any number of demons without being possessed. Shinoa is still unaware of this.
Equipment
Talismans (Light Novels exclusive) : Shinoa is seen to be skilled with talismans as Guren noted her as an exceptionally gifted child, her talents befitting of her family name.
Cursed Gear
Shikama Dōji 「四鎌童子, lit. Four-Scythe Child」: A manifestation-type demon weapon from an unknown series. Shinoa takes out a pen-length black rod and spins it, which then transforms into a black massive scythe with a thick, black aura around it. She can call out the demon, which she fondly addresses as "Shi," inhabiting it out of the weapon to attack an enemy. It is strongest at mid-range. Her primary ability is to detect anything that comes within the attack radius of her scythe.
Trivia
Four 「四」 can be read as "Shi" 「し」. Shi 「死, し or シ」 means "Death."
Hīragi 「柊」 literally means "Holly."
According to the light novel, she and her half-sister Mahiru were born with demons inside of them.
Although Shinoa is a member of the Hīragi family, she is loyal to Guren Ichinose.
She can't cook.[5]
Shinoa is the youngest member of her squad.
According to the 8.5 fan book:

Interests/Likes: Originally had no interests, but lately has been thinking about her comrades / Methods to increase her bust size.
Favorite food: Food with cheese / Mont Blanc
What she looks for in the opposite sex: A prince on a white horse, of course. Oh, but what kind of person is this Prince Charming? He came from The Little Red Riding Hood, right?

In the popularity poll, Shinoa earned 2nd place at 4,074 points.
Despite everyone mocking Shinoa's height, in Japan, it is considered normal for a girl to be of her height. The same applies for males, but are mocked of more (especially in western countries) because the national average is higher. Japan is the most known MEDC for having people shorter than the national average-height but is ultimately more accepted.
"I guess I can't expect you to take my word for it. Maybe if I tell you some of what I know? About the Brotherhood of a Thousand Nights? And the cursed weapons? The fact that my sister sold out the Hiragis in pursuit of power, all for the sake of some boy she loves? Well? Is any of this starting to sound familiar?"—To Guren, Chapter 2, Page 216
"I'm just a kid. To be honest, power and influence just seem boring to me. I was lucky enough to be born with a powerful sister, so I don't have to deal with the same expectations over leading the clan. That's between Kureto and my sister. I've had some training from the clan, mostly just as a backup in case both Kureto and Mahiru die. I'm still fairly capable, though. At least, for my age."—Chapter 2, Pages 216-217
"I'm just trying to prove whose side I'm on. I'm not interested in the Hiragis. Or the Brotherhood of a Thousand Nights. But I love my sister… She's always been kind to me. And interesting. She tells me everything."—Chapter 2, Page 217
"Don't go to the Hyakuya Orphanage. Mahiru is planning to betray the Thousand Nights, too."—Chapter 2, Page 217
"It caught me by surprise, to be honest. Apparently, my sister loves you so much that she's willing to leak important information for you. I don't think I've ever seen her act this way before. She's usually very rational and logical. I guess love makes people act impulsively. I don't quite understand it. But then again, I'm just a kid."—Chapter 2, Page 218
"Hmph… I really don't understand grown-up love. It all seems a bit twisted to me."—Chapter 2, Page 219
"Not another torturer," she said. "I haven't done anything wrong, so maybe you should just let me go already."—To Guren, Kureto, and Aoi, Chapter 4
"No, I'm not hurt. Just as you planned, I'm sure…" Shinoa bit her lip petulantly. "But I think my maidenhood was in danger for a while. I'm only eight, you know."—To Mahiru about Kureto threatening to have her raped, Chapter 4

Note: She is counting her age using the Japanese system, where they grow a year at New Year's rather than on their birthdays. Using the English system, she is still seven years old until her birthday on Christmas.
Shinoa grinned, twisting her hands up like claws and waving them in Shinya's face. "Nope, it's just makeup. I look like a zombie, don't I? Rawwrr!" She pounced at him playfully.—To Shinya with her torture makeup, Chapter 4
"Don't ask me. I'm just a kid. All that adult boy-girl stuff is still a mystery to me," Shinoa said, shrugging her shoulders.—To Shinya about Mahiru loving Guren, Chapter 4
"Even after what happened, I think she's still the one person in the world who would be most upset if I were to die. If I wound up dead in some gutter someday, I don't think there's anyone else who would really care."—To Guren about Mahiru abandoning her, Chapter 4
"Well, that's a shocker! Considering how little we know each other, I would've never thought the two of you would feel sad if I croaked. I guess that goes to show how much you both love my sister. You even care about me just because I'm related to her."—To Guren and Shinya, Chapter 4
"Unfortunately," said Shinoa, "it looks like my sister is through with all of us—me, you, and Shinya. She made it pretty clear today that she's abandoned us. I don't think she'll make contact again. She's already accomplished whatever it is she wanted to accomplish at this school."—To Guren and Shinya, Chapter 4
"Count me out. All you adults with your grumpy faces and your stupid wars are boring me. I'm going home."—To Guren, Chapter 4
"You weren't thinking about sneaking into a pretty girl's room to do nasty things to her in the dark, were you? No thanks, you perv. I might have to tell my sister on you."—To Guren, Chapter 1
"Maybe you can't tell just by looking, but you now I'm actually an excellent chef? …My skill at pressing buttons on a microwave is unparalleled."—To Guren, Chapter 1
"The only calls I ever receive on this phone, by the way," the girl said, "are from wrong numbers, telemarketers, and my sister."—To Guren, Chapter 1
"Holy shit, Superman!"—To Guren after he rescues a parent and child by using Noya, Chapter 3
"Mind knocking next time?" she said, but Guren ignored her.—To Guren after he enters her apartment without warning, Chapter 4
"Wait, the world is ending?"—To Guren, Chapter 4
"Virginity is a 'bad thing' these days. Every day, we of the Japanese Imperial Demon Army encourages couples to come together. The world has already ended once. It was ravaged by an unknown virus. Monsters appeared suddenly and killed more people. Now, the human population has been reduced to a mere fraction of what it once was. Beyond those walls lie blasted wastelands and crumbling ruins overrun with monsters. This world of ours... no longer welcomes humanity. We of the Japanese Imperial Demon Army are bringing the remnants of humanity together to reproduce so that we can take over the world! Breed for us, civilians! Multiply! Make more babies for the sake of the Demon Army! Long live premarital and illicit relationships!!"--Shinoa to Yu, Chapter 3, "The Demon in your Heart"
"It isn't actually a shrine. That's just what we call it. In the old days, an enormous tunnel system was built under Shibuya to control the river's floodwaters. Now, those tunnels are the army's training grounds. No, let me be truthful. This entire school is a training ground for the army. We keep demons in the basement. Any students who can tolerate the aura they emit without going mad are recruited. In other words, This 'school' is nothing more than one giant human experiment. Don't tell me you actually thought that a 'normal, peaceful school' could really exist in this insane age."--Shinoa to Yu and Yoichi, Chapter 3, "The Demon in your Heart"
"Lemme see! Oh my! Is this what I think it is? It is! That legendary grade only achieved by the most special of students! Let's show it to everybody!"--Shinoa about Yū's spellcraft exam score of zero, Chapter 6, "Black Asura"
"'Oh, Shinoa, you look so adorable in that uniform I could positively die! After all, I'm just a poor, inexperienced virgin.' Really? I understand."--Shinoa to Yu as she imagines his thoughts, Chapter 8, "Mitsuba's Squad"
"You have nothing to worry about, Lieutenant Colonel! Since I'm an adult, I know ignoring the whiny yipping of the weak, talentless losers is only the mature thing to do."--Shinoa to Guren about Mitsuba, Chapter 8, "Mitsuba's Squad"
"And so... the two clashed mightily at first. But as time passed they grew closer, until one day--"--Shinoa teasing Mutsuba about falling in love with Yū, Chapter 9, First Extermination
"Excellent! Well then, let us be off on a fun-filled, vampire-slaughtering excursion!"--Shinoa to her squad before their first operation, Chapter 9, First Extermination
"My, my! I knew Lieutenant Colonel Guren's protégé had to be powerful. But I hardly expected him to be this powerful."--Shinoa about Yu, Chapter 9, First Extermination
"Aha ha. I won't then. But first, why don't I execute everyone who laughed just now?"--Shinoa about driving before beating up Yu and Kimizuki for making fun of her, Chapter 10, "Vampire Attack"
"Well, with your gear, Yūichiro... If you learn to use a few curses, you should be able to fill in that gap a little. However, once you are on level footing with a vampire, then what? Myself, Mitsu, Yoichi... We're all stuck behind. We'll be killed. That is why all of us need teamwork. Today's encounter was an excellent lesson. We were even blessed to escape without casualties. And I am particularly happy that you, of all people, suggested a retreat. But most of all, I'm thankful that you saved my life. You are as protective of your friends as Lieutenant Colonel Guren thought."--Shinoa to Yu after facing Crowley for the first time, Chapter 10, "Vampire Attack"
"I'm sure I needn't remind you after we faced that vampire noble in the streets not long ago. Even though you bear a weapon in the top rank of cursed gear, a rare 'Black Demon Series' sword, you could still be killed in the blink of an eye. You'll be useless on the front lines. Completely useless. As helpful as a turd lying forgotten on the ground."--Shinoa to Yu in Shinjuku, Chapter 12, "A Very Safe Supplement"
"These are a temporary measure. Getting the fullest out of your cursed gear requires copious study and training. The drugs are meant to make up for that which even the most devoted training can't provide. But look at the world around us. We simply don't have time for that. War has already begun."--Shinoa to Yū in Shinjuku, Chapter 12, "A Very Safe Supplement"
"Oh, don't worry. The Demon Army itself one hundred percent guarantees that these supplements are positively riddled with harmful side effects."--Shinoa to Yū in Shinjuku, Chapter 11, "A Very Safe Supplement"
"'Mika.' 'Yu.' Those two... are family."--Shinoa to herself after the battle in Shinjuku, Chapter 14, "Everyone's a Sinner"
"I am a member of the Hīragi family... the leaders of this Demon Army. Am I still forbidden to pass?"--Shinoa to guards in the JIDA's undergound Shinjuku barracks, Chapter 14, "Everyone's a Sinner"
"I like how the word rolls off the tongue. Besides, I have little interest in the petty power struggles of the upper ranks. I lost my elder sister to that sort of thing, after all."--Shinoa to gaurds on why she has the meager rank of sergeant, Chapter 14, "Everyone's a Sinner"
"Yūichiro. Please wake up soon. Yūichiro...? Aha ha... Me? In love? Never. But... wake up soon, Yūichiro. Please."--Shinoa to comatose Yu, Chapter 14, "Everyone's a Sinner"
"I see, I see! I'd expect nothing less from a daughter of the prestigious Sangū family. Not just anybody can stand around like a useless lump and still get promoted!"--Shinoa to Mitsu on her promotion, Chapter 17, "Cursed Guinea Pig"
"In fact, I'm almost certain the upper echelons have completely abandoned me. After all, it was my elder sister who betrayed the family and caused that big uproar a few years ago.... In fact, my sister was such an incredible genius that my father never even bothered to meet me at all. Of all the children sired by all those different women, my sister was considered the brightest candidate for heir. But now she's dead. And, luckily, I was considered unimportant enough to be discarded... We may only be a collection of half-siblings, but who wants to fight their own family for power? And besides, it would mean going up against that monster Kureto Hīragi."--Shinoa to Mitsu on the Hīragi family, Chapter 17, "Cursed Guinea Pig"
"After all, ours is a broken world. Who are our allies and who is the enemy are as clear as mud."--Shinoa to Mitsu, Chapter 17, "Cursed Guinea Pig"
"Aha ha! Don't be silly. My sister didn't care about the world. Deep down, all she wanted... was to love you. You couldn't be together, but she still wanted you. That was what led her down the road to possession. Yet, eight years ago, the world suddenly ended. Any adult who hadn't gotten the vaccine in time died. The Four Horsemen of John appeared out of nowhere and began killing those who survived. Vampires, fearing the loss of their food source, took control of as many cities as they could. In response to that, someone somewhere called it Armageddon. They said that divine wrath was unleashed on humanity for the sins of overpopulation and overindulgence. Everyone believes that now. If my sister hadn't completed the means of creating cursed gear by then... humanity might truly have gone extinct. Despite being just another girl in love, you could call her the savior of the world. But then she was killed. Killed, because she had been consumed by her research... and turned into a demon. And the hand that finally destroyed her... was that of her lover. You, Guren Ichinose. At least, that's the official story. Tell me, Lieutenant Colonel. Is my sister still with you... inside your sword? Does she still possess you?"--Shinoa to Guren on Mahiru Hīragi, Chapter 18, "Possessed by Mahiru"
"We are Hīragis. A Hīragi is not raised knowing familial love... That said, watching a certain someone get so desperate to save someone he has no blood ties to makes me a little... curious. I can't help but wonder if I, too, should put a little more value into 'friendship' and 'camaraderie.' Was it my sister who ordered you to take advantage of Yu? Does she--No, let me rephrase. Does the demon she's become command you from inside your blade? What is your goal, anyway? I should warn you that if that goal is something that doesn't benefit Yu... If you don't mind, I'd be very appreciative if you would stop it."--Shinoa to Guren, Chapter 18, "Possessed by Mahiru"
"Who knows? I certainly can't say. But just a few minutes ago, for the first time in my life, someone told me they needed me. I think I'd like to try living up to that."--Shinoa to Guren when asked if she has a crush on Yu, Chapter 18, "Possessed by Mahiru"
"Very true. That is precisely why I've called this meeting. What I say may be shocking. You might want to stay seated for it. It is a very serious talk, you see. One about Mr. Perfect here, skilled at cooking, cleaning, and all things domestic. He even makes sure his uniform is neat every day. I am speaking, of course, about Shihō Kimizuki. He swings that way, you see."--Shinoa to her squad, Chapter 23, "Ambition in the Demon Army"
"If you die, Yūichirō would be mad at us when he wakes up. Go on. Take Yūichirō with you and run."--Shinoa to Mikaela Hyakuya, Chapter 35, "Traitorous Allies"
"That's quite enough talking, thank you! I am making the decision to trust you, and that's that! The rest is up to you!"--Shinoa to Mikaela Hyakuya, Chapter 35, "Traitorous Allies"
"Yet another... human experiment."--Shinoa in response to Kureto Hiragi killing her Moon Demon Company comrades in front of her, Chapter 39, "The Beginning of the Plan"
"Great. It looks like it's up to me to find a way for us to escape this mess."--Shinoa, Chapter 41, "Arrogant Love"
"Whaaat?! No way. That can't be right! After all, that bottle had the pure and sweet blood of a virgin in it! Wait...! Is it possible that the tainted blood of the unchaste somehow got in there too?!"--Shinoa after Mika says their blood is gross, Chapter 43, "Where It All Begins"
"It is true the Demon Army is the most dangerous organization in all of Japan."--Shinoa, Chapter 43, "Where It All Begins"
"Well then, it seems we've reached a decision! Now that we have deserted the Japanese Imperial Demon Army, our next objective shall be the rescue the captured vampire queen before Yuichiro becomes a full demon. How does that sound, everyone?"--Shinoa, Chapter 43, "Where It All Begins"
"Oh, it is very obvious that he can't be trusted in the slightest. However, the problem is that the Lieutenant Colonel himself along with my sister and the Demon Army are all equally untrustworthy."--Shinoa to Mitsuba about Ferid and their options, Chapter 48, "The Making of an Angel"
"In the end, the only ones we can trust are our friends inside this rest stop with us."--Shinoa to Mitsuba, Chapter 48, "The Making of an Angel"
"I've never been inside a men's restroom before. I see they are designed much differently from a women's room. I never knew."--Shinoa, Chapter 48, "The Making of an Angel"
"My, my! The world's in shambles, and we can't trust a single adult still alive. Surrounded by enemies on all sides, here we squat in a men's room like a gang of school-age delinquents. We paint quite the picture right now, don't you think?"--Shinoa, Chapter 48, "The Making of an Angel"
"Well, er... You won't catch me complaining about our allies being too powerful."--After seeing Crowley Eusford kill Fuola Honte easily, Chapter 52, "Suspicious Mansion"
"There are clean clothes for us to change into. New, clean Demon Army uniforms, even. In other words, Ferid has a connection to the Demon Army. At this rate, it's possible that even his own crucifixion was all part of his plan."--To Mitsuba, Chapter 54, "Sinner's Christmas"
"A... A G-cup... Even a holstein reborn as a human like you couldn't... No. Just no. It's impossible."--To Mitsuba, Chapter 54, "Sinner's Christmas"
"Whew. That was close. She almost found out about my super-secret Z-cup size."--To herself, Chapter 54, "Sinner's Christmas"
"Ah, so you mean the struggle for power, I assume? The one that killed my gifted sister and has consumed my brother, Kureto? Little incompetent me ran away from that chaos as quickly as my feet could take me."--Shinoa to Guren, Chapter 57, "Defining a King"
References
Ad blocker interference detected!
Wikia is a free-to-use site that makes money from advertising. We have a modified experience for viewers using ad blockers

Wikia is not accessible if you've made further modifications. Remove the custom ad blocker rule(s) and the page will load as expected.